Back to Islands
Hawai'i island, also known as the Big Island, is the youngest of the Hawaiian chain. From the laid back vibe of Kona to backdrop of Hawaii Volcanoes National Park, there's something for everyone to enjoy on Hawaii's largest island. A Big Island tour of Hawaii is a great way to see what the island has to offer.
Hawaii tours showcase the island's cultural history and heritage. Explore the history of Kona, Heiau-temples, and royal palaces on a Hawaii guided tour with IMI Tours.
Hawaii Tours
We offer different kind of Hawaii guided tour. Whereas most tour companies use large, impersonal buses, our Hawaii tours feature smaller guided groups to allow for more convenience and one-on-one interactions. Our tour vehicles include SUVs and Mercedes Benz shuttles (11 passengers). Book your Big Island Tour with a small island vibe!
---
Things to Do on the Big Island of Hawaii
The Big Island is more than just an island full of lava fields; Hawaii island has adventure and fun activities for the whole family. This is the only spot in Hawaii to see an active volcanoe and perfect for hikes, helicopter tours, horseback riding, surfing, and stargazing. Reserve a Hawaii guided tour or find what works for you on Hawaii's Big Island.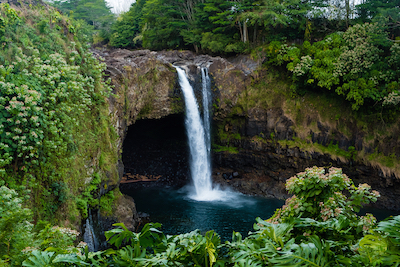 Check out the best areas to visit on Hawaii island:
Hawai'i Volcanoes National Park – Forty-five minutes from Hilo, Hawaii Volcanoes National Park has the most active volcanoe on earth. This massive park is the island's most popular tourist attraction and a sacred place in Hawaii. Other highlights include Crater Rim Drive, Thurston Lava Tube, Pu'u O'o Vent, and Volcano House. The Volcano House hotel overlooks Halema'uma'u Crater of Kilauea and is a one-of-a-kind place to stay in Hawaii.
Waipi'o Valley - Waipi'o Valley is a large sacred valley on the North Eastern side of Hawai'i island along the Hamakua Coast. Also known as the Valley of the Kings, Waipi'o valley was the most fertile land in ancient times, and is viewed today as a sacred valley. Today, Waipi'o valley is favorite hiking spot. Respectfully hike down into Waipi'o Valley to a black sand beach. The Waipi'o Valley Lookout is a breathtaking view at the end of the Hamakua Heritage Corridor drive. Guided van tours, hikes, and horseback rides are also available in the area.
Hilo Farmers Market – The Hilo Farmers Market has over 200 local farmers, artisans, crafters, retailers, and food vendors on big market days. Located at the corner of Mamo Street and Kamehameha Avenue in downtown Hilo, the Hilo Farmers Market is open to everyone all year round and is a must-see if you are visiting the Big Island.
Coffee Farms & Macadamia Nut Farms – Hawaii has coffee and macadamia nut farms that are open to the public. Kona Coffee is known throughout the world and rated as one of the best gourmet coffees on the market. Macadamia nuts are the 'signature crops' of Hawaii and can be collected by hand at macadamia nut orchards. Tours are available to coffee and macadamia nut farms on a farm-by-farm basis.
Reserve a tour with IMI on the Big Island and learn the history and culture of Hawaii Island. Besides guided tours, SpeediShuttle can also provide private charter vehicles on the Big Island.